Best 6 Latte Machines 2022: Which One is a Perfect Fit? The truth is that while there are many things to consider; what we're looking for here is a standard coffee machine under the frothy "latte" exterior the makes lattes very sweet. As you know, a latte is a milk-drenched coffee, which means the coffee machine's milk part-the milk frother-is a very important component.
In reality, some coffee lovers even go so far as to suggest you don't have to think about the espresso side of things at all because it is just a small part of a latte's overall milky taste. We beg to differ- the best latte starts with the best coffee for us – but the point is well taken. In this article, we will be showing you the Best 6 Latte Machine of 2022 so that you can easily take the decision to buy your favorite one with just one click from here!
What Is The Difference Between an Espresso Machine & a Latte Machine?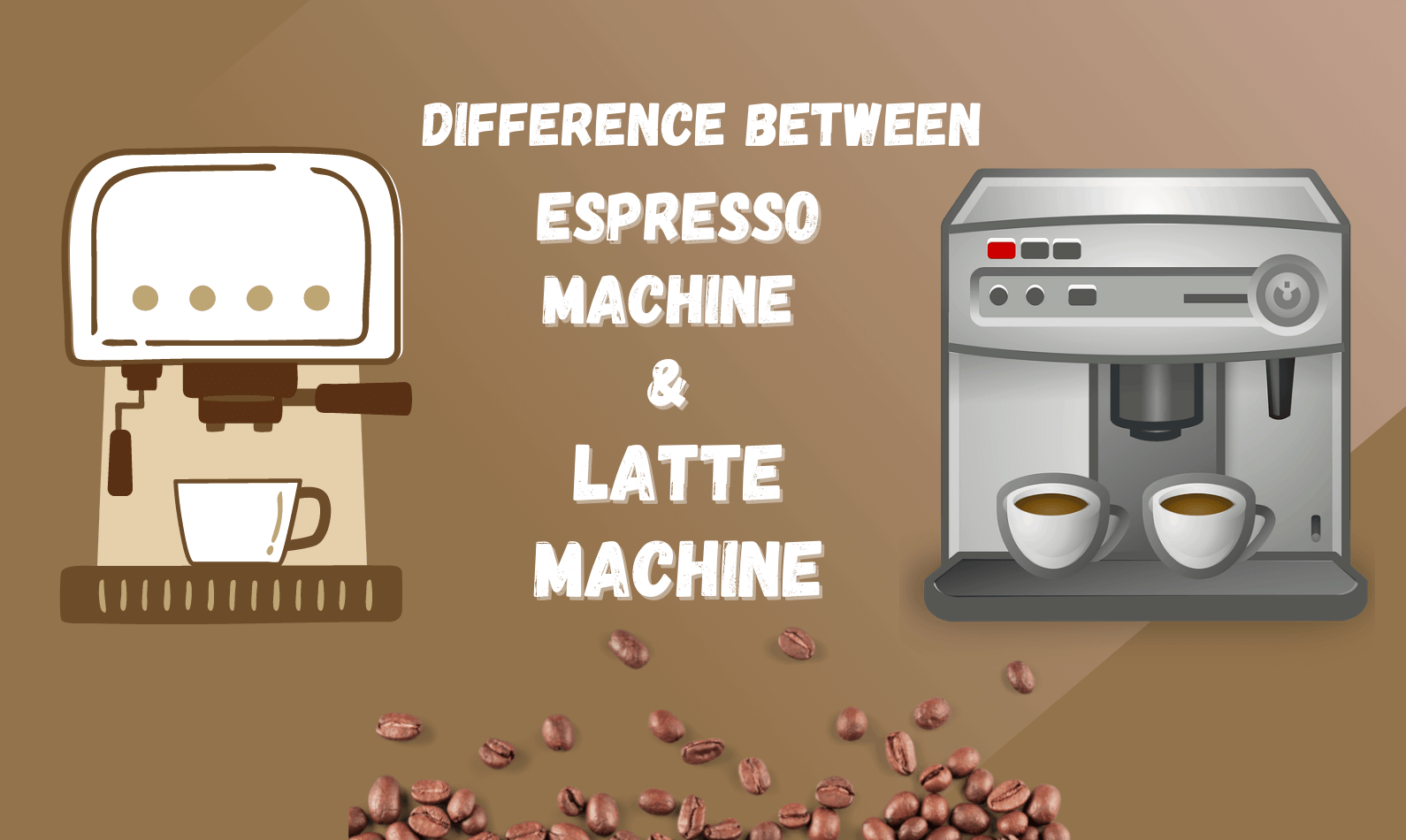 Although most people use them interchangeably, an espresso machine is not a direct substitute for a latte machine. While it's true that espresso machines can finely produce shots of espressos, it is also true that most of them are unable to create steamed milk and the thin layer of microfoam. And without the latter part, you won't be able to get the perfect latte.
Now, some of you might be wondering if a handheld milk frother could replace the task of the latte machine's built-in milk frother or steaming wand. But, think about it. Is it really worth the hassle? And besides, if you already know a thing or two about coffees, then you probably understand that the manual work won't get the job done precisely and perfectly.
What To Consider Before Buying a Latte Machine?
Now comes the most critical part of the article. And we would strongly suggest you pay attention to the words stated in this buying guide because the quality of your latte machine will depend on these key factors, which are to be considered before buying the product.
The price is the first thing that comes to mind when you look at any product. So, you need to understand the budget that you have for your latte machine. The latte machines in the market come in various price ranges. Now, if you just want a regular latte without much complexity, then choosing a budget-friendly machine would do just fine.
However, if you are one of those people who love more features and complex work while brewing their coffee, it would help if you raised your budget. Besides, the more you pay the more you get.
It would be best if you choose a more convenient and user-friendly machine rather than the ones with lots of options and levers. Especially if you are a beginner, we wouldn't recommend you to go after such machines. However, if you are that interested in customizing your coffee experience, you can opt for the semi-automatic machine.
Grinding the beans just before brewing is the best option for experiencing quality coffee. With that being said, always look for a latte machine with a built-in grinder. If you already have a grinder, then don't bother looking for one in the coffee maker.
To get the milk foam precisely made for your latte, you definitely need an automated built-in steam wand. However, if your preferred machine doesn't have one, you can get an extra milk frother to get the job done.
You have drunk your coffee, and now, it's time to clean it up. The latte maker you choose should always be easy to clean and maintain. Anything that requires complex work should be avoided.
Now that you know the basic things required before choosing the perfect latte machine, it is time for you to jump straight to the list of the best latte machines.
Top 5 Best Latte Machines 2022 (Top Picks Reviewed)
1. Breville Barista Express Espresso Machine
Our first pick on the list is the Breville Barista Express Espresso Machine. When it comes to Breville, it's very hard to be disappointed with their quality service. This machine has an integrated conical burr grinder to give you precise grinding controls to produce the perfect coffee grounds. In addition, it includes an optimal water pressure feature to extract the flavors evenly from the beans.
The powerful steam wand that comes with it is genuinely helpful for creating microfoam milk to enhance the flavor. The build of this machine is also fantastic. The beast can run smoothly without any problems. At least, we haven't encountered any. However, all these sweet features and benefits do come at a cost. The price is comparatively higher than the other relative products in the market. But you can't simply ask for such a great latte machine at a lower price.
2. Mr Coffee Café Latte Maker
Don't want to spend too much on a machine? No problem. The Mr Coffee Café Latte Maker is an outstanding machine that comes at an affordable price. And frankly speaking, it is very unlikely that you will ever come across such a beast at this price range. It is very convenient to use. One simple touch and you are a few minutes away from a delicious latte. The manufacturers made sure to make the machine as efficient as possible.
Once your drink is ready, the machine will automatically shut off. The machine is also very easy to clean and maintain. So, anyone who doesn't love any hassle will undoubtedly fall in love with this one. One thing that we found very attractive about this latte maker is the inclusion of a recipe book. So, if you are a beginner, then you are in great luck. All in all, this latte machine comes with a handful of features and an attractive look.
3. Mr. Coffee Espresso and Cappuccino Maker
Our next product is also from Mr Coffee. It is none other than the Mr Coffee Espresso and Cappuccino Maker. This machine is very multitalented. As its name suggests, it can brew espresso, cappuccino, and also latte with a delicate taste. The 15-bar pressure is more than enough to give the perfectly pressurized espresso shot at the base of the coffee. The one-touch control panel makes it very easy to operate.
It also includes an automatic milk frother which is a plus point for any latte lovers. However, one thing that a coffee lover won't appreciate is that the build quality of this machine is not up to the mark. On top of that, cleaning it can be a problem as the reservoir is not dishwasher-safe. Although it isn't loaded with lots of customizable features, the machine does save a lot of bucks for the customer. So, if you are on a tight budget, you won't go wrong with choosing this coffee machine.
4. Keurig K-Café Coffee Maker
Another budget-friendly yet excellent quality latte machine is the Keurig K-Café Coffee Maker. It has simple button controls that can help you brew a quick cup of coffee with ease. Another handy feature of this machine is the large 60 oz removable water reservoir. With that, you can easily brew coffee for six people without having to refill it. So, it can indeed you a reasonable amount of time and effort.
But did I just say time and effort only? This baby can save a lot of energy, too, because it is equipped with a programmable auto-off feature. But, although the price isn't on the expensive side, one thing that can bother you is the price of its complementary product. The capsules are pretty price in comparison. So, drinking your latte or any beverage from this machine on a regular basis could be one of the reasons for your financial downfall. Nonetheless, anyone who gives quality a priority can easily fall in love with this coffee maker.
5. De'Longhi Magnifica Super-Automatic Espresso/Coffee Maker
Next on our list is a very popular brand in the coffee machine market. The De'Longhi Magnifica Super-Automatic Espresso/Coffee Maker is one of those machines that give a luxurious vibe on the first look. It includes a built-in, conical burr grinder that has 13 different settings to adjust the grinding density.
This way, you can customize your grounds to your own preferences. In addition, it has a patented "Cappuccino System" frother that can mix your steam and milk perfectly. What is greater is that you can manually do the task, given that you are somewhat a barista yourself. However, one thing that can concern you is the price. It is fairly expensive and can make the buyers think twice before falling in love with it. However, it is a good-looking machine with some robust features that can brew a lip-smacking latte.
Final Verdict:

Best Latte Machines of 2022
Final Words: Our Recommendation
We have tried multiple products from well-known brands and finally narrowed down the list to the top five best latte machines. Our testers judged them very meticulously. And weighing all the variables, we have comprehensively done the review and stated the pros and cons.
Read more about Best Commercial Espresso Machines 2022
Now, based on your preferences, it is up to you to decide what product to choose. We have included both expensive and budget-friendly products. So, give the pros and cons a read a make your pick. However, we do want to give you something extra. We figured that some of you might still be confused about choosing the right product. So, based on our honest judgment, we can recommend a latte machine for you which we found to be the best among the bests. But, do keep in mind that this is subjective and can vary from people's personal opinions.
Overall Best Latte Machine 2022
According to our observation, the Breville Barista Express Espresso Machine is by far the best latte machine on the market. You cannot just go wrong with this coffee maker. It simply has it all. From quality coffee to improved functionality, this machine can satisfy you to the brim. Although it is a bit pricey, you cannot deny the fact that all good things come at a price.
Having a latte machine on the countertop is an amazing thing, isn't it? But choosing the right machine with the right price can be a troublesome job as there are a lot of variants available out there. So, take help from this review article and buy from these best 5 latte machines of 2022 with just a click now!
Frequently Answered Questions
What is the Best Coffee for a Latte?
The best coffee for a latte is dark-roasted espresso beans. However, some also prefer medium-dark roast beans.
Is it okay to drink a Latte every day?
Latte is a type of coffee. And daily intake of coffee in a large quantity is absolutely harmful to your health. But, in general, studies show that an average person can consume 3-4 glasses of 8-ounce coffee without a problem.
Is a Latte Machine Worth it?
A latte machine is only worth it when an espresso-based drink is needed for your daily cup of java.