If you love coffee, you might love the idea of making a homemade coffee flavored syrup to bring your favorite coffee flavor to all kinds of other foods. After all, even if there are many options for store-bought syrups, but you'll get better results doing the thing yourself. Many people might be familiar with the popular Starbucks vanilla latte. And while it might taste delicious, the truth is that spending 5 dollars (or more) every morning for your daily dose of caffeine might be a little too much if you need to keep your expenses down.
Luckily, making coffee syrup at home isn't as challenging as you think. And the best part is that you can "adapt" it to your needs. For instance, you can make it "stronger" by using your favorite coffee at a higher concentration. You can choose to make a simple syrup, you can be creative and add vanilla, caramel, or hazelnut to make flavored syrups. Still, regardless of how you decide to go around it, you can use it in several ways: for instance, you can add it to beverages, cocktails, and drinks (both alcoholic and non), desserts, or even pour it over ice cream to boost its flavor.
If you want to learn how to make flavored coffee syrup, you have landed in the right place. Here, we'll go through our homemade coffee syrup recipe to create the best combination of simple syrup and other delicious ingredients.
Ingredients
Luckily, making syrup doesn't require many ingredients. Plus, it won't take much time as the process is relatively simple. All you need for a simple syrup is:
Sugar (white sugar, raw cane sugar, coconut sugar, or even honey will do!)
Strong coffee or espresso
To that, you may want to add a flavoring like vanilla extract, vanilla bean paste, peppermint extract, or hazelnut extract. Or you can even caramelize the sugar before making the syrup to add a delicious "burnt-like" flavor that will bring you back to Starbucks' caramel macchiato.
The choice of the type of coffee you'll use will determine the final flavor. So, keep that in mind. You can pick instant, cold-brew, percolated, or even decaffeinated (if you prefer that). For a "caramel" flavor, use brown sugar instead of the white version. Of course, you can try sugar alternatives such as stevia or monk fruit. But beware: the syrup won't be as thick!
Procedure
This procedure won't take more than 15 minutes. So, you don't have to plan to prepare your coffee syrup. Once you have all the ingredients, it will go quick!
Making a coffee syrup starts by brewing strong coffee using your favorite method. Remember to make it double the strength (at least) you would usually make it to get all the flavors from it. Then, as with a simple syrup, you'll have to transfer one cup of the coffee to a saucepan with one cup of the preferred sugar.
Combine the two ingredients and bring to a boil over medium heat. Don't forget to constantly stir the mixture to allow the sugar to dissolve better. Once it boils, let the solution simmer for 3 to 5 minutes at low heat. And if you want a thicker syrup, let it simmer for longer (you can do so for up to 20 minutes), but remember to stir constantly, and if it boils down too much, it will burn.
Now, you can flavor the syrup the way you prefer. You can add a tablespoon of vanilla or hazelnut extract, caramel sauce, chocolate sauce to make a mocha syrup, or add some spices such as cardamom or cinnamon for a unique taste. Once ready and satisfied, pour the solution into a sterile glass jar or bottle.
How to Store Homemade Coffee Flavored Syrup
To increase the syrup's shelf life, we recommend you keep it refrigerated. It will last for about two weeks. However, most flavors (such as hazelnut) will start to fade after the first week.
Even if this might be a tip you didn't expect, if you want your syrup to last even longer, you can add a spoon of vodka or rum. The alcohol will prevent the formation of bacteria and keep your syrup good for longer.
Alternatively, you can freeze the syrup in an ice-cube tray and use it to give a fun twist to your daily beverages! In the freezer, the syrup will last for up to 4 months!
Sometimes, the syrup might thicken too much in the fridge. If that happens to you, microwave it for 15 to 20 seconds before using it.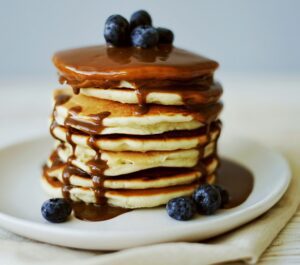 Conclusion
I really love this method of making flavored-coffee syrup. Please let me know in the comments if you've tried this method and what you have enjoyed this on!