Best Kenyan Coffee Brands 2022: Top Picks Tasted & Reviewed: Kenya is famed for its coffee. The high mountains make Kenya perfect for coffee growing, and the beans pop with earthy, fruity flavors. The earthy quality gives a pleasing mouthfeel to the coffee, so we end up with a wonderful combination of delicate aromas and a full body.
What to Consider before Buying Kenyan Coffee?
Now, having read our list of the best Kenyan coffees, how do you choose? Keep on reading for some short tips.
It's also usually more expensive than others because of the nature of the coffee produced in Kenya. The great thing about the coffee world is it's so big, if you want to taste Kenyan coffee at a lower price, you can still do that, even if it's only a glimpse of what you'd get with finer Kenyan offerings.
For all coffees, it's pretty much down to taste. If you prefer to taste your coffee more like "coffee," then you'll want a darker roast, which will lower acidity and take some fruit and other spice notes away. Of course, a darker bean is a stickier bean that can lead to a cup that doesn't feel as clean. You should expect a colorful, complex cup of coffee with lighter roasts. It might be too much for some, though. Kenya is considered to produce some of the best coffee globally, but for the more adventurous it can also be.
Now that you want to buy a Kenyan coffee, which one? We've prepared ourselves for tantalizing aromas and rich flavors with these posts. Making this list of Kenyan's best coffees was hard work, but we did it to help you find the best cup.
Top 6 Best Kenyan Coffee Brands with Pros & Cons
1. Volcanica Kenya Whole Coffee Beans
This is a magnificent bean by a roaster with a fantastic industry reputation. We expect results every time we see an offer from them. We got them with the Kenya AA Volcanica. Kenya's medium roast is a gorgeously complex cup. Starting with raspberries and cranberries, this coffee shifts quickly to redwood notes with a tartness that you can find surprising because a savoriness is also creeping up on the back end.
Raised between 4,900 and 6,800 feet, these are beans of high quality from a reputable roaster who really knows how to shine them. True to nature, this Kenyan will reach you with fruity, earthy tones that sometimes even resemble wine.
2. Cooper's Cask Kenyan Coffee Beans
The name itself is a twister of tongues, and so is the coffee-in a good way! The Cooper's Cask Kenyan Coffee Beans, roasted a little darker to highlight the cherry and chocolate edges, demonstrate what Kenyan coffee has to offer in terms of fruitiness and sweetness.
You'll be stuck with a scent of molasses, honey, and wheat tea biscuits until you taste the deliciousness of the chocolate cherry. This bean comes from the varietal whiskey, and you're sure to get wasted : on flavor, that is. Also, this coffee is an affordable way to explore the Kenyan coffee world.
3. Henry's House of Coffee: Kenya Beans (Light)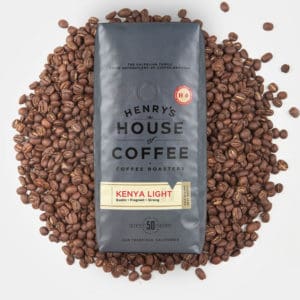 In their Kenya Light, Henry's House of Coffee has given us a wonderful new range. Although we found it to be medium-level roasted, we are still very pleased with this product. This bean is a certified Kenya AA, which refers to the screen's size and implies higher coffee bean quality.
Given that Kenyan coffees are known for their fruity and earthy tones, Henry's House's effort does not disappoint. You'll note natural coffee, berries, and lemon flavors. It should be noted that this coffee is especially good with milk, as the smoothness of the milk beautifully matches the acidity of this coffee.
4. Java House Kenya Coffee-Beans
With their blend of Kenyan beans, Java House has put forth a solid effort. The fruity notes and spicy notes are more evident here and roasted a little lighter than the first two. There are already many chocolate highlights so that this cup will be a little more acidic.
Java House is a wonderful buy, but it might be for the more adventurous coffee drinker because it wanders away from what would be expected from a traditional cup. It could easily have been in our top two with its flavor profile, but it's a little more expensive.
5. Gevalia Special Reserve Kenya Ground Coffee
The Gevalia Special Reserve Kenya Ground Coffee really harnesses all of our Kenyan coffees' cherry taste and floral notes so far. You can find less chocolate here, but it is still one of the savoriest coffees on this list. This coffee isn't as aromatic as it comes pre-ground and doesn't produce a good bloom.
Whether you have the opportunity to grind your coffee at home, we recommend buying the whole bean, but if not, this will be the best ground coffee you can get from Kenya. Just remember that once the coffee is ground, particularly if it is not properly stored, its quality drastically decreases.
6. Coffee Bean Direct Kenya AA
We had to place the Kenyan AA roast of Coffee Bean Direct at number six because of one thing: incoherence. Sometimes this coffee arrives stale, with limited aromas and flavors. The good news is that it really is good when you get a good batch! This coffee underlines what Kenyan coffee is all about: a rich cherry taste with floral notes and earthy tones.
Verdict: Best Kenyan Coffee Brands 2022
We are pleased to give you this little course to get you started in the Kenyan coffee world, or maybe to continue your search to find the perfect Kenyan coffee. Our top pick, Volcanica Kenya AA, is a spectacular series, showing what you'd expect from the best of beans abroad. In contrast, our second choice, Cooper's Cask Kenya AA, shows the variation you can find in a field. They are delicious for various reasons. You should, of course, do what we're doing and buy the two! And if the wallet gets full, do not forget that with our budget choice, the Java House, you can still find a wonderful bean at an affordable price.
Conclusion
When it comes to ranking the best coffees across the world, only a handful of big regions come out consistently on top. One of the most famous: Kenya. Kenyan beans are generally considered, and reliably, the elite. But this is not just by happenstance, of course.
Read more about Best Coffee Maker With Grinder 2022
Kenyan coffee farmers favor several different factors. A lot is going on behind the scenes, from perfect growing conditions to detailed analysis and export strategies to keep the supply of delicious Kenyan coffee beans flowing out. This article reviewed the 7 best Kenyan coffee brands of 2022 that you can try out. Go through the article and find the best suit for you to buy with just one click from the links given above!