Best Cappuccino K-Cups 2022: Cappuccino K-cups ease the coffee brewing process while allowing users to choose from various flavors. These K-cups are so convenient and easy to use that even inexperienced coffee makers can produce rich-tasting coffee, but there's a catch.
To benefit from K-cups, you have to know which ones to purchase. There are many available on the market; some are excellent, and others, not so much. We've compiled reviews of our favorite cappuccino K-cups, so you don't go through a long process of trial and error to find the ideal K-cup for your taste buds. The best cappuccino K-cups are discussed here.
SNEAK PEEK – THE BEST CAPPUCCINO K-CUPS
Back To Basics – What Is Cappuccino?
Of course, most people know what cappuccino is. It's an endless coffee drink that's been around just about forever. It's the one that comes with lots of froth on the top and is a popular choice at any Starbucks or other similar coffee shops – although it's now probably less popular than a latte.
But if we want to know which K Cups make the best cappuccinos, perhaps we need to know a little more about the drink to be able to judge. So, let's now think about the question, what is a cappuccino?
First, A Little History
There have been many similar coffee versions with milk from different countries, but what we think of as the modern cappuccino has been with us for around the same amount of time as the modern espresso.
The hidden story underlying it is, without espresso, a cappuccino is not possible. The cappuccino, as recognized by people, was born in Italy, probably sometime around the 1930s. It can be considered a descendant of different versions of similar drinks that were already popular in Vienna in Austria.
As espresso changed with the development of the machines used to make them, so did the cappuccino, which reached its current form around the 1950s.
So How Do We Define "Cappuccino"?
So, what is a modern cappuccino? A cappuccino is a drink usually made with two espresso shots in a bowl-shaped cup followed by the same amount of warmed milk.
This is topped with a layer of milk foam with a ratio of 1:1:1 espresso – milk – foam. Nowadays, this can also be topped with chocolate powder, cinnamon, or other similar flavorings. When it is poured, skilled baristas sometimes add intricate patterns to the froth known as "latte art" (it is called "latte art" since this is common practice with lattes too).
Get to know your Cappuccino- Best Cappuccino K-Cups: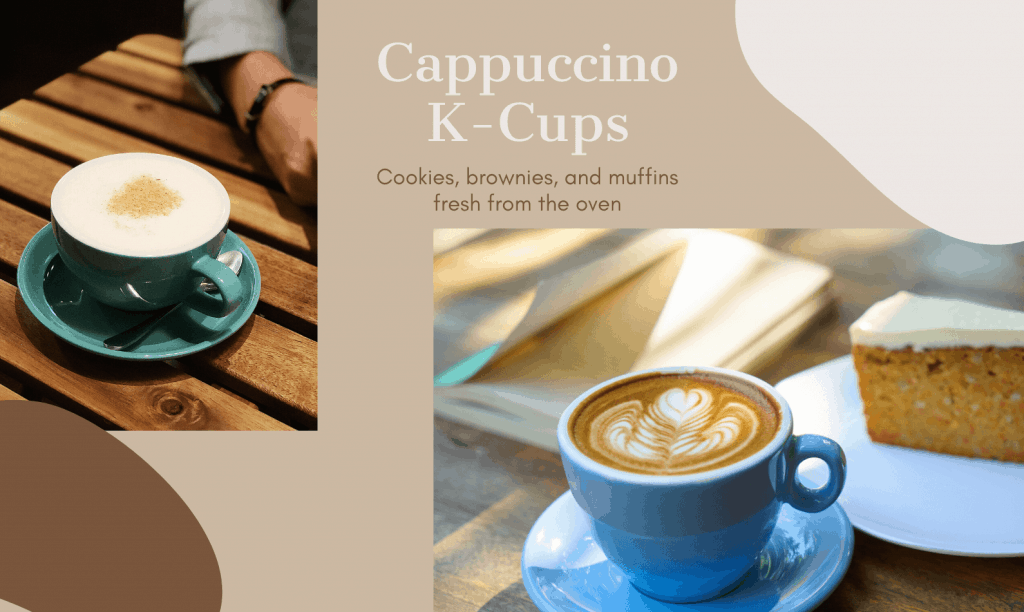 A traditional cappuccino comprises 1/3 coffee, 1/3 steamed milk, and 1/3 foam; however, there are several variations on this versatile drink. Here are a few examples:
A mixture makes a wet cappuccino or Cappuccino Chiaro of more hot milk and less foam than the traditional ratio. They are creamier, much like a latte with a bit of foam on top.
The dry cappuccino or cappuccino scurry little milk than the traditional ratio. It includes a few drops of steamed milk, but more foamed milk layered on top of the drink. The taste of coffee is stronger in this drink, and it is darker in color.
An iced cappuccino or cappuccino freddo is a cold version of the traditional hot cappuccino, feels like a blessing when served in summer. You can create this version by adding cold-frothed milk to chilled coffee or blending a hot cappuccino with crushed ice.
Flavored cappuccinos are also very popular. Typically, flavored syrups are added to the coffee before adding the milk. Popular flavored syrups include chocolate, caramel, vanilla, and peppermint.
What to Consider Before Buying Cappuccino K-Cups?
Convenience is a key factor when it comes to making coffee with k-cups. If the k-cups are not easy to use or have complexities, don't bother getting them. Too many steps for preparation, incompatibility with the brewer, filter clogging, etc. problems are clear signs that the k-cup you are using isn't worth the money.
Coffees are a regular drink for busy people nowadays. And, it isn't uncommon for them to have multiple cups a day. So, making sure that it doesn't turn into poison for their body is a key factor. That is why keeping an eye on the calorie count mentioned in the packaging is very crucial. Normally, cappuccino k-cups tend to have a calorie count ranging from 50-80 calories. Anything above that level shouldn't be on your wishlist.
You are getting the k-cups to make cappuccino, right? But what if it doesn't taste like the real cappuccino? Wouldn't that be an utter disappointment? Originally, cappuccinos are made with espresso machines. So, applying a shortcut will naturally cause it to deviate from the original taste. However, you need to make sure that it doesn't taste completely different. To do that, you have to first try and then evaluate the product.
Now that you are equipped with all the necessary information required for choosing the right cappuccino k-cup, you can confidently view and pick any product from the list of the best cappuccino k-cups. So, Let's get started.
Top 6 Best Cappuccino K-Cups 2022: Top Picks Reviewed
1. Grove Square French Vanilla Cappuccino
Our top pick on the list of the best cappuccino k cups is the Grove Square French Vanilla Cappuccino. The perfect combination of sweet vanilla and bold coffee makes a heavenly taste. Moreover, as it already has creamer in it, you don't need to add any extra ingredients. Another fact about this cappuccino k-cup is that it is kosher certified. So, you are getting a fresh package without having to worry about its impact on your health. It is also compatible with both first and second-generation brewers. Its reasonable price makes it a good choice for your daily cup of coffee.
2. Double Donut Double Caramel Cappuccino
Our next pick is for the coffee lovers who like it sweet and delicious. The Double Donut Double Caramel Cappuccino is a perfect blend of Arabica coffee with sweet caramel. You don't need to do the hard work of adding any extra ingredients to enhance its taste and flavor, as the mixture already contains the perfect proportion of milk and sugar. The ingredients are also kosher certified.
Talking about compatibility, you don't have to worry about anything as it conforms with both the first and second-generation Keurig. The company also did a great job in making the coffee pods 100% recyclable. So, buying them will also make you feel like contributing to the preservation of the environment. All in all, based on its affordable price, the Double Donut Double Caramel Cappuccino is indeed a great cappuccino k-cup product in the market.
3. Victor Allen's Coffee Sweet and Salty Caramel Cappuccino
The next one on our list is Victor Allen's Coffee Sweet and Salty Caramel Cappuccino. As its name suggests, this coffee gives a sweet and salty mixed taste. The coffee products also do not contain any gluten or genetically modified ingredients. Moreover, it is also cholesterol-free. So, there is no concern with its impact on health. Besides, the 100% Arabica beans are perfectly roasted to give satisfactory taste and flavor. Moreover, the coffee pods are compatible with any brewing system. So, you won't be facing trouble while brewing them.
4. Hill Bros Double Mocha Cappuccino
Who doesn't love an amalgamation of chocolate and coffee? The Hill Bros Double Mocha Cappuccino is the perfect option for those who want to experience their cappuccino with special notes of chocolate. Among all the chocolate-flavored products we have tasted, this one stands out. And unlike the other flavored coffees that use artificial sweeteners to enhance the taste, this one is natural and gluten-free. In addition to that, this cappuccino k-cup is compatible with both generation Keurigs.
5. Gevalia Cappuccino K-Cup Pods
Last but not least, we chose to keep the Gevalia Cappuccino K-Cup Pods on our list. If you want to make a cappuccino with minimal effort, this product is the best option. With only a two-step process, your cappuccino will be ready in no time. A cappuccino k-cup doesn't usually taste the same as that of the original ones.
However, this product almost proved that wrong. It is as close as you will get with a k-cup. They are made with 100% Arabica beans, and they come with froth packets to add flavor to your cup of joe. Another benefit of this coffee product is that it is compatible with all types of Keurig k-cup brewers.
Best Cappuccino K-Cups: The Final Verdict
Final Words: Our Recommendation
The list of the best cappuccino k-cups we have mentioned above has been narrowed down to only five products for your convenience. But before preparing this list, we had to try and test multiple similar products of well-known brands. Finally, we have chosen these to be the best in the market by weighing all the pros and cons of the vast set of cappuccino k-cups.
We have tried to keep the reviews as much comprehensive as possible. Moreover, we have also given a buying guide that will ease your decision-making process.
However, some of you might still be confused about choosing the right product despite including the buying guide. It is not uncommon to face such kinds of difficulties. For that reason, we have decided to keep a recommendation section dedicated just for you. But, it is essential for you to know that this recommendation is solely subjective and can vary from person to person. Not everybody has the same kind of taste buds. Still, we believe that this coffee product is better than the others from an overall perspective.
Best Overall Cappuccino K Cup
The Grove Square French Vanilla Cappuccino is undoubtedly the best cappuccino k cup we have experienced so far. It simply has it all. The taste and flavor are mouth-watering. And talking about the health benefits, it doesn't have many demerits. The most attractive thing we find in this product is the price tag. Getting a quality cappuccino k-cup at such an affordable price is truly a gift from heaven for any coffee lover.
The Gevalia Cappuccino Keurig K Cup Pods are also excellent. Hopefully, the guidance of our product reviews and buyer's guide have equipped you with the necessary knowledge to identify and purchase the best cappuccino K-cup.
Read more about Best Organic Coffee Brands: The Ultimate Buyer's Guide 2022
That said, all of these cappuccino K-Cup brands make delicious cappuccino-style drinks that cappuccino enthusiasts will enjoy.
Many of the best cappuccino K Cups have surprising flavors, including old-timers like vanilla, caramel, and hazelnut – or more genuine flavors like the pumpkin pie ones we reviewed here. This is one of the joys of using K Cups – there are always so many new and exciting flavors to discover.
Frequently Asked Questions (FAQ)
What is the Difference Between Espresso and Cappuccino?
Espresso is just a type of coffee. There is no special ingredient in it. Cappuccino, on the other hand, uses espresso at its base and tops it with steamed milk and froth.
Is there Caffeine in Cappuccino k-cups?
Yes, most cappuccino k-cups usually contain caffeine.
Do Cappuccinos contain high calories?
The calorie count of cappuccinos varies from product to product. Usually, they range from 50-80 calories. Anything above that should be avoided.
Do Cappuccinos taste good?
Yes. Cappuccinos are famous for their excellent taste and flavor. The steamed milk on the top gives sweetness with every sip.