How to make Irish coffee at home: If you love Irish coffee, you are in good company. Loved by stars like Marilyn Monroe, Irish coffee is decadent, delicious, and surprisingly easy to prepare. It may seem not very easy when you order one in a restaurant or bar, but you can quickly prepare it on a cozy night at home. Read on to learn how to prepare classic Irish coffee in four simple steps and how to customize it to your liking.
You will need hot coffee, sugar (brown and granulated), Irish whiskey, and some whipped cream in more general terms. Coffee plays a supporting role for the other key components, so prepare your favorite bean and make sure it is warm before you start.
Where does Irish Coffee come From?
Irish coffee was invented in 1943 by Joe Sheridan, chef and barista at an airbase in Limerick, Ireland. It was a cold winter night, and a transatlantic flight had been interrupted due to bad weather. Sheridan wanted to warm the frozen passengers, so he added Irish whiskey and cream to the hot coffee.
A few years later, a travel writer introduced this delicious drink to the United States, and the rest is history. But don't worry; you don't have to be a professional to prepare an excellent version of this unique drink.
Ingredients for Making Irish Coffee
The Ingredients for Making Irish Coffee are as follows:
6 ounces of freshly brewed hot coffee

1 teaspoon granulated sugar

Fresh cream (see recipe notes) 

1 teaspoon of brown sugar

1 1/2 ounce of Irish whiskey
Recipe on How to Make Irish Coffee
1. Prepare the Coffee
Start by making coffee. You can use any brewing method, but strong, dark-flavored coffee holds up better against whiskey and Irish cream. If you make lighter coffee, you may not be able to taste it through the other flavors. Find out how to make stronger coffee here.
2. Pour the Coffee into Cups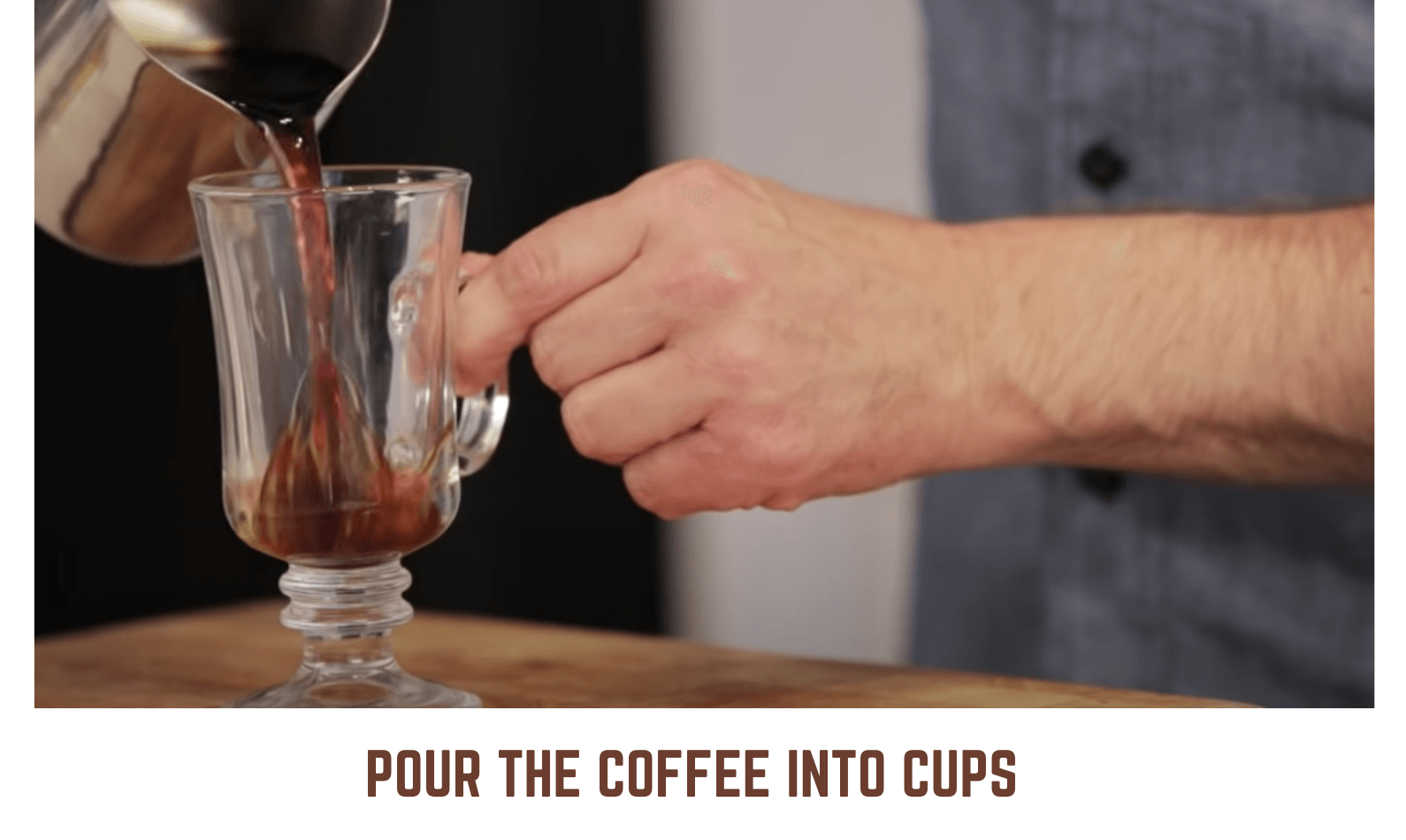 Pour the coffee into single cups, leaving room for whiskey and cream. These drinks are beautiful, especially in glass mugs. If you don't have it, check out our guide to the best glass coffee mugs.
3. Add the Whiskey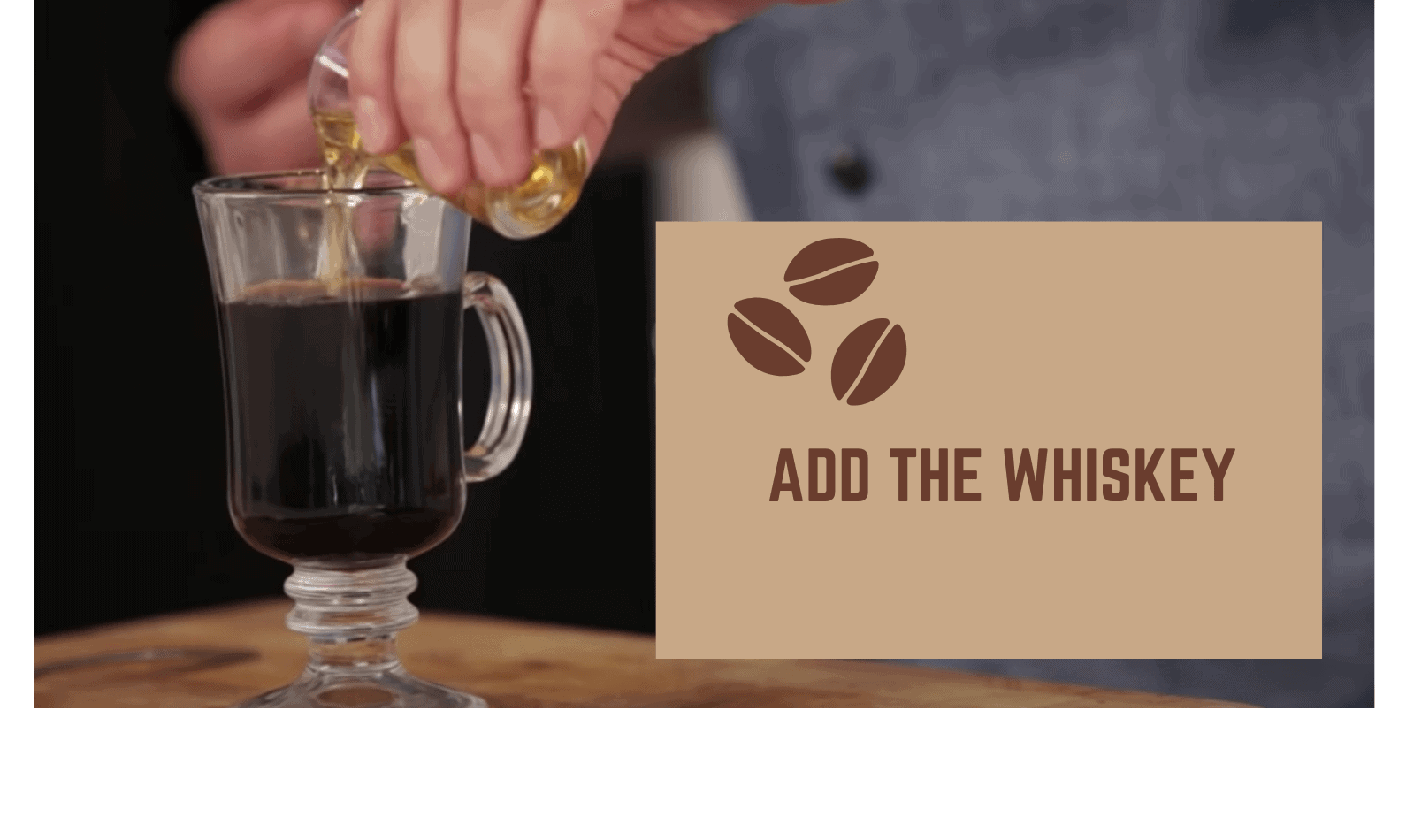 Add 1 to 1.5 ounces of Irish whiskey to each glass. You can use any whiskey brand, but a good Irish whiskey will really make this Irish coffee.
4. Add the Irish Cream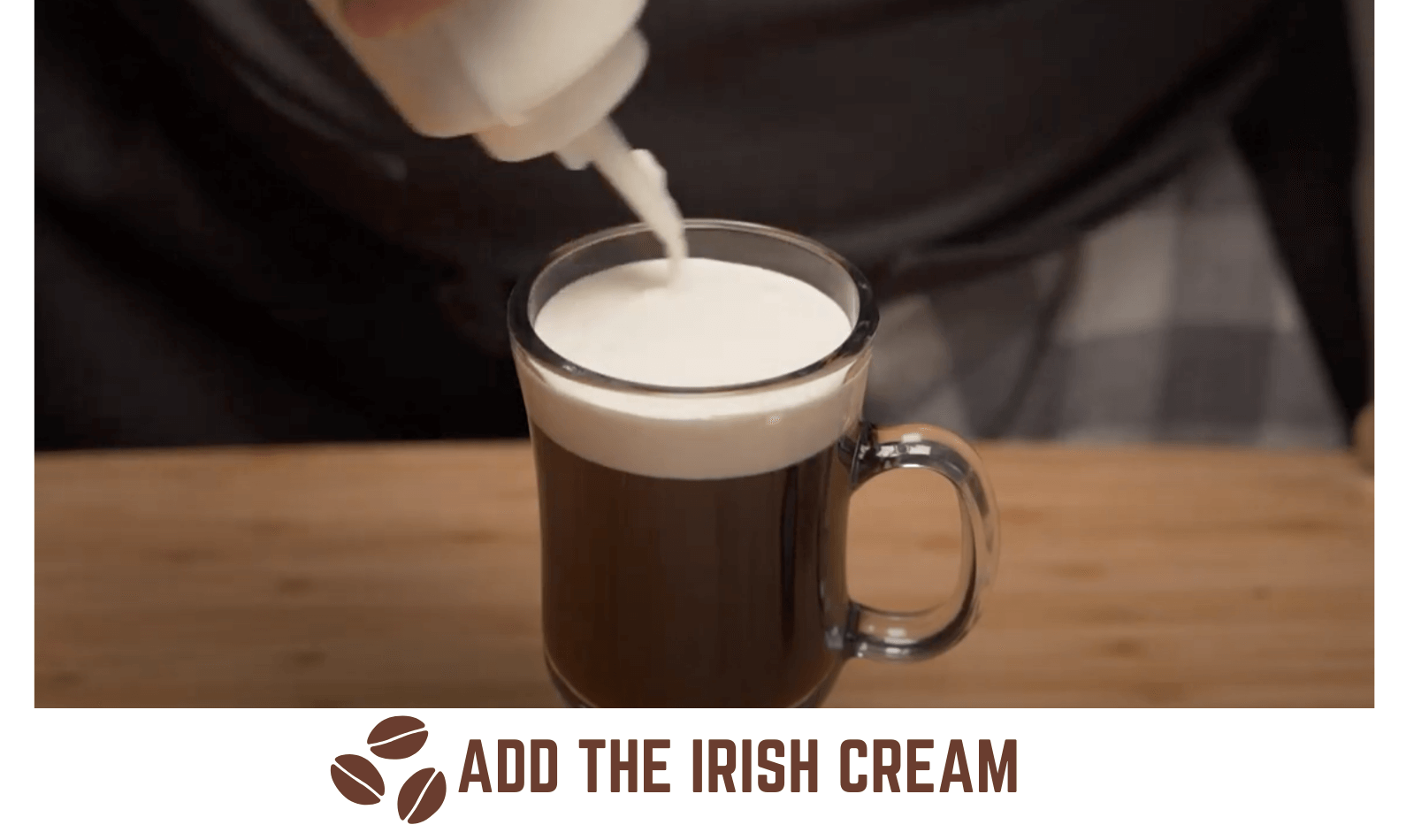 Finally, pour one ounce of Baileys Irish Cream into each glass. This will add a rich, sweet flavor to your drink and depth to your coffee flavors. Mix well and serve immediately.
How to Personalize your Irish coffee?
This drink is effortless to customize. You could consider your favorite flavors as you read our guide to personalizing this delicious drink.
For the best flavor, try a medium-dark roast. With all these other flavors, light roasts and complicated single-origin coffees are lost in the mix, so a bold and dark coffee could be just what you need. If you are looking for a more concentrated drink, prepare an espresso or two and add just a little whiskey and Baileys.
Alcohol
If you want to make a non-alcoholic version, skip the Irish whiskey, replace the Baileys with half and a half and a pinch of brown sugar, or try the Baileys non-alcoholic cream.
Cream
For a more decadent version, you can complement your Irish coffee with any variety of cream. Buy whipped cream prepared in the supermarket or create a homemade version with thick cream.
To prepare a Baileys flavored dressing, combine half a cup of heavy whipped cream with a spoonful of Irish Bailey's cream. Beat with a mixer for one or two minutes. Put the whipped cream in the coffee. You can also use a milk foam wand or the built-in vaporizer of an espresso machine to create a silky layer of foam.
Other flavors
If you are a little more experimental, why not try adding more flavors? Try mixing fresh mint leaves, adding a little mint extract, or sprinkling cinnamon or cocoa powder. If you have a soft spot for older kids, sprinkle some caramel or chocolate sauce on the glass. And while Irish coffee is a dessert in itself, you can try serving it along with ice cream or biscuits to make it even tastier.
Variations of Irish coffee
I love these classic Irish coffees exactly as they are written, but here are some fun ways to change them.
Add a side dish. Sprinkle the top with a pinch of ground cinnamon. If you are really imaginative, you can try on top of finely grated nutmeg or chocolate chips with a Microplane (affiliate link).

Choose a decaffeinated coffee for an after-dinner drink. That is unless you can have a coffee after 15:00 M. And I still go to bed on time, in which case I greet him.

Serve it on ice. Pour cold coffee or double-intensity brewed coffee into a cup full of ice. Add half and half and skip the whipped cream.

Make it extra creamy and rich. Substitute Irish cream (like Bailey's) for some or all of the whiskeys.

Do it quickly. Skip the homemade whipped cream and add half and half.

Lighten If you are looking for a less drunk drink, relax with the whiskey.

Do it without alcohol. Skip the whiskey, and you'll have a delicious homemade coffee drink (it's not Irish at all, but hey, it's tasty).
Made of dark and tasty coffee, smoked whiskey, and sweet cream, Irish coffee is a deliciously unique drink. Despite its decay, it is surprisingly easy to make and simple to adapt to your tastes.
Read more about How to Froth Milk at Home: 9 Easy Methods To Follow
We hope that our guide, which includes four simple steps, will help you mix a fantastic drink. You can also skip your next trip to the pub and enjoy a smooth and creamy Irish coffee at home.