Best Burr Coffee Grinders Under $200: Top Picks, Used & Reviewed. If you are a coffee lover and want to brew exceptional quality coffee from now on, then you have arrived at the right place. That's because we are about to tell you everything you need to know before brewing the perfect coffee. We all know that getting pre-ground coffee from the market is simple and cheap. But, people like you (who have a higher taste) know that it just isn't enough to give you the satisfaction you are looking for. That is why we came up with a list of the best burr coffee grinders under $200, along with a buying guide so that you can find the right grinder to match your preferences.
Now, you might be wondering why we opted for the burr coffee grinders instead of the blade coffee grinders. To clear your confusion, we want you to look into a few facts about why elite coffee lovers have cravings for coffee grounded in burr grinders.
What is the Difference between Blade Grinders & Burr Grinders?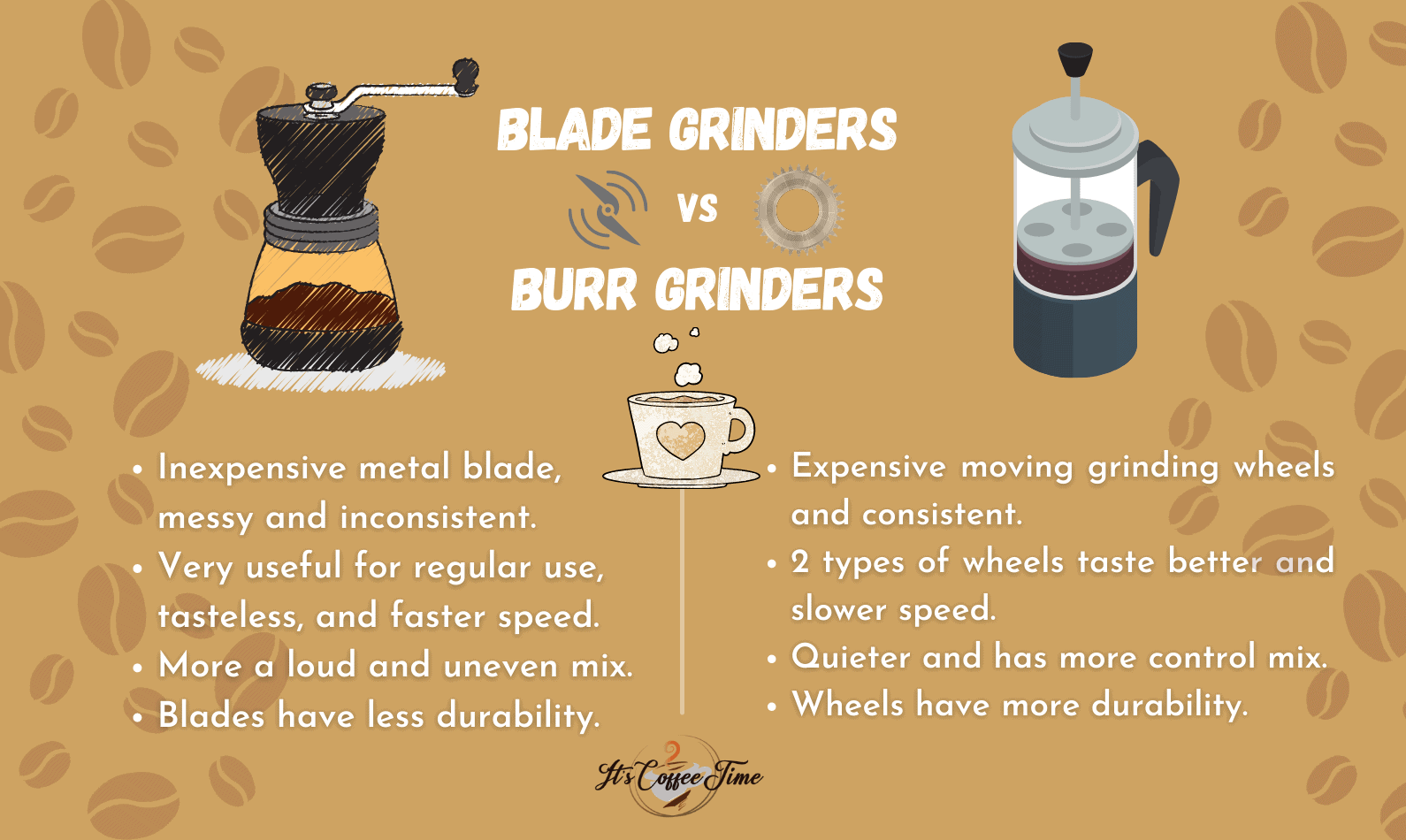 Blade Grinders
Blade coffee grinders are similar to blenders. They have blades at the bottom of the chamber that spins rapidly and chops off the coffee beans. This grinding mechanism produces coffee grounds of variable sizes and shapes. The grinding session also produces a lot of heat, which is responsible for altering the original taste of the coffee grounds. Thus, the original flavor expected from such coffee grounds is nowhere to be found.
Now, let's sum up the features of the blade coffee grinders and illustrate the pros and cons to have a better understanding of the products.
Burr Grinders
Burr grinders are usually made up of ceramic or stainless steel burr pieces that grind the coffee beans. They produce uniform and evenly shaped coffee grounds. Moreover, they create very little heat, allowing the brews' taste and flavor to stay intact. They also enable the users to control the burrs and adjust the size of the grounds.
Although so far so good, let's sum up the features of the burr coffee grinder and analyze the pros and cons to get a better insight into the product.
Which is Better Blade Grinders & Burr Grinders?
It is needless to say that the burr coffee grinders are much better than the blade coffee grinders from an overall perspective. Although its costs are a bit higher, the quality grounds it produces are worth the price, especially for coffee lovers of your classes.
Now that we have established that burr coffee grinders outweigh the blade coffee grinders in terms of quality service, it is time for you to navigate to the list of the best burr coffee grinders.
We know that you are eager to find out what's on the list. But we care for you. And so, we believe that it is in your best interest to know a few more facts before choosing the right product. Hence, we discussed some vital points for you to keep in mind. So sit tight, and keep reading. You won't be disappointed. 
What to Consider When Buying a Burr Coffee Grinder?
When purchasing a grinder of such type, there are many things to keep in mind. With that being said, let's cut to the chase and jump straight to the points.
We know it sounds technical. But don't worry, we will make it plain and simple for you. A burr grinder needs a motor to operate the burrs and grind the beans. And, the more the RPM, the more consistent the grounds will be. So, that sounds great, right?
Not really. Here is the catch. Although consistency is a priority, it results in more heat production. Thus, wasting the flavor of the beans when they are grounded. So, what should you do to avoid such a mess?
Here is what to do: Choose a powerful motor with larger and flatter burrs. A powerful motor will enable the machine to run efficiently and prevent overheating. And getting one with larger burrs means that it will take less RPM to grind the beans (in other words, shorter time). Flatter burrs, on the other hand, will give the machine additional help by reducing friction and saving the motor some trouble.
Does it Grind into a Portafilter or a Bucket?
You need to understand which type of grinder is right for you based on its grinding destination. Some send the beans to a bucket, while some reserve them to a portafilter.
Now, here's what you need to do. If you already have an espresso machine and only want to brew espresso-based coffee, buy one with a portafilter. Simply avoid the ones with a bucket.
Next, you need to look for a grinder with a portafilter holder (assuming you require the one with a portafilter). The holder does the honor of resting the portafilter, giving you the option of pouring milk with one hand as it grinds and using the other to keep reading our article on your mobile phone.
Number of Grind Settings
The number of grind settings in a grinder might not look like an important factor to consider, but unfortunately, it is. You see, different people have different tastes and preferences. If you belong to the types of people who like to experiment and brew various kinds of coffees, you definitely need one with more grind settings. Say, a grinder with more than 40 settings for grind sizes would serve your purpose.
But, if you don't want any complications and just want to enjoy quality coffee without acting like a coffee scientist, then ignore this point and move on to the next one.
Grind Settings: Pulse, Auto Grind, and Timed Grinding
We weren't finished with the grind settings section. Here is a crucial settings guide you need to keep in mind before buying the right burr coffee grinder. First of all, understand your purpose in buying the machine in the first place. Are you going to use it once a day or more frequently?
The pulse setting allows the user to press the button and start grinding until it's complete and press again to turn it off. It's a very hectic job. But it's suitable for people who don't want to use it more often. Then comes the auto grind. As its name suggests, it will automatically complete the job for you. And finally, we have the timed grinding. It allows the user to set a timing for grinding, making it easier and more convenient for usage.
There you have it. Now you know what to look for while buying a burr coffee grinder. You have officially become a coffee grinder guru. Now comes the hottest part of this article. You have been patient throughout the whole time, and we will gift you with a list of the best burr coffee grinders for under $200. We have tried and tested the products and will present you with the honest experience that we have had far. So, it is safe to say that you don't need to do boring and tiring research on other websites and look for products from a vast collection on Amazon.
Top 5 Best Burr Coffee Grinders under $200 (Reviewed)
1. Bodum BISTRO Burr Coffee Grinder
The first one on our list is the Bodum Bistro Burr Coffee Grinder, an electric grinder that gives quality service at a very affordable price. It uses conical burrs to crush the coffee beans, which helps keep the beans' aroma and flavor intact and fresh. It can hold up to 220 grams of coffee beans which is quite acceptable. It has 12 adjustable grind settings that can help you brew from Espresso to French Press with ease. Another helpful thing about this machine is that it is less noisy and messy, which users most often complain about other products.
Moreover, it has a friction clutch which helps to protect the grinding gear. Its push-button and the pre-set timer allow users to grind precisely the way they want and get consistent grounds. Let's take a look at the pros and cons of the product-
2. OXO Brew Conical Burr Coffee Grinder
Our next pick for the best burr coffee grinders is the OXO Brew Conical Burr Coffee Grinder. This machine has 15 grind settings with additional micro settings, which is pretty handy. It is designed with stainless steel conical burrs that can provide reasonable quality grounds. The ground container can hold coffee grounds that are enough to provide 12 cups of coffee. Besides, it has a moderate space for storing coffee beans too.
If you want faster grinding, then the OXO Brew Conical Burr Coffee Grinder can be really helpful. It also has a static elimination feature added to it. The manufacturers gave an option to save the previous grind settings. That way, it eases the process of operating the machine. Now, let's have a look at the pros and cons of the product-
3. KitchenAid KCG8433BM Burr Coffee Grinder
If you want a versatile burr coffee grinder and don't want to pay much attention to the price, then the KitchenAid KCG8433BM Burr Coffee Grinder is the right product for you. It has 70 precise grind settings that can help you experiment and brew coffee of any type and flavor. It has a built-in adjustable portafilter holder, which is very handy indeed.
There is an option to save the beans when not needed and transfer them between brews. The automatic smart dosing technology makes the product more attractive for users who want an accurate dispensing feature. Let's explore the significant features and pros and cons of the machine:
4. Baratza Encore Conical Burr Coffee Grinder
One of the most popular burr coffee grinders on the market right now is the Baratza Encore Conical Burr Coffee Grinder. It has 40 grind settings that can give you access to multiple brews with a single machine. You can use both the pulse and auto grind features to grind the beans. The bean hopper has a capacity of 227 grams, and the ground bin has a capacity of 142 grams, which is pretty ideal for a grinder. The conical burrs rotate at a perfect speed to give you consistent grinds. To sum up, it offers excellent value for money.
The most prominent pros and cons of this product are-
5. Capresso Infinity Conical Burr Grinder
If you are looking for a safe burr grinder with low noise and heat production system, the Capresso Infinity Conical Burr Grinder beats other products in the market. It has 16 grind settings with four levels and gives a consistent grind for each of the levels. The noise cancellation system is fantastic in this machine. The less heat production feature helps to keep the flavor of the beans intact. The machine is designed in a way that would help to make the cleaning process a lot easier.
The built-in timer function can last the grinding session from 5 to 60 seconds. The bean container can hold up to 8.8 ounces of beans and grind at the storage of 4 ounces. So, it is pretty efficient. Let's have a quick look at the pros and cons of the machine-
Final Word: Our Recommendations
We have given a detailed explanation and provided the features and functions of the best burr coffee grinder under $200 that we have tried and tested very meticulously. All of them have their pros and cons. So, it is for you to decide which product best suits your need.
Read more about Best Burr Coffee Grinder under $100
However, we have kept the recommendations section because we know that you still might have a bit of confusion about picking the right burr grinder despite all the details and pros and cons. Some of you are on a budget, while some want a product with overall outstanding performance. So, keeping that in mind, we made the recommendations based on our best judgment.
Cheap Best Burr Coffee Grinder under $200
If you are looking for a cheap burr coffee grinder that performs well, then the Bodum Bistro Burr Coffee Grinder is your best option. The price is very reasonable, and it gives you a consistent grind along with the elimination of a few common problems in a coffee grinder; noise and mess.
Overall Best Burr Coffee Grinder under $200
We know that the article talks about the best burr coffee grinders under $200. And, this product is just a cent short of the limit. But, if we are talking about the best overall burr coffee grinder, we can't just skip this product. It has all the features that a coffee lover could ask for. The versatility and advanced technology used to design the product are simply outstanding. So, there you have it, the overall winner of the list of the best burr coffee grinders under $200, the KitchenAid KCG8433BM Burr Coffee Grinder.